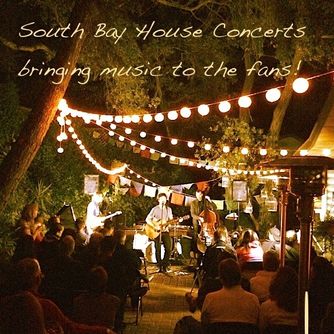 South Bay House Concerts is a meet up launched in 2014 by Tami Mulcahy. The goal was to build a unified fan base from south of San Francisco (the Peninsula) to San Jose region. We are now over 1650 members strong with a network of hosts that put on an event once a year or every month. It's a labor of love but once the music starts, it's all worth it.
This is an all volunteer effort. There is camaraderie in the region (East Bay, Marin, San Francisco, South Bay) to coordinate when possible and also to be a resource to each other. 
If you do not live in the San Jose metroplex, research house concerts in your area. If nothing is there, built it!
The following is from the SBHC meet up website:

If you build it they will come…a South Bay network of house concert and small live music venues, and all us fans who love the up close and personal music experience. This site is for music lovers of all genres to check out what's happening on the San Francisco peninsula down to San Jose. The artist talent pool is amazing. Let's build the audience!

Never been to a house concert? You're in for a treat! Defined as "true listening environments", they are typically small gatherings in the privacy of a home or small stage. Usually 30-50 people. Occasionally, like if someone has a super cool back yard, it's easy to fit in more. Every host runs things a bit different. Typically, seating is provided. But you may be asked to bring a chair or a blanket. Typically it's BYOWhatever. But, there might be social time and/or a potluck.

Guests are asked to be very respectful of the house. Stick to the concert area, be clean and no smoking.

The artist reflects the flavor of the host, from classical to singer songwriter. Don't' worry if there are just a couple rsvp's. Most experienced hosts have cultivated a mailing list. This site is an adjunct to that and to help new house concert providers get started by establishing a shared pool of fans. The more house concert venues, the more fans, the more artists who get to share their amazing talents.

Want to become a host? It really is easy. But it is work and the artist depends on you to be dependable. Here are a couple resources: http://www.americansongwriter.com/2014/02/songwriter-u-make-real-money-donation-based-house-concerts/http://www.concertsinyourhome.com/CIYH_HouseConcertGuidex.pdf

PLEASE NOTE!!!! Seating is limited.  No shows are a big deal. Attendance is taken. The reputation of this meet up will be one of dependability, as if you paid for your ticket in advance.
Gallery of Artists - N2House Concerts